The NOBL Why?
At NOBL we are on a mission to build the UK's lowest carbon footprint drinks brand. But why?
We believe drinking water shouldn't cost us the Earth. Rising levels of CO2 are suffocating our planet and this is the last generational chance to change this.
We are so committed to lowering CO2, we don't even carbonate our drinks. This world needs a lot less gassing and a lot more action. We're changing the status quo.
Because our planet deserves better from us. We're taking action now, harnessing the latest green technologies to reduce CO2 and waste. We want to inspire a positive change everyday, to change mindsets, to show one refreshing change can benefit the wellbeing of all.
We champion those that want to see a change for good.
We aren't here to condemn bad choices, but we aren't interested in excuses, falsehoods, gimmicks or those that simply choose to ignore reality. If you're interested in making a positive difference in the world then we'll support you. If you just want to learn a little more of what you can do, then we're here to help.
We can do better You can do better We all can do better
NOBL Eco System
We are rethinking the way a drinks business needs to behave. By building our own ecosystem we intend to raise the sustainability bar in the drinks industry.
Rather than simply offering you drinks in more sustainable packaging, we are building the NOBL ecosystem which means we take responsibility for how and where our drinks are produced, how they are transported, as well as the packaging we use.
We know supply chain isn't sexy, but the way in which our food and drinks arrive in our hands is important to understand when looking at the impact they have. At NOBL we are looking at each aspect of our chain and introducing new ways to lower our carbon footprint at every stage.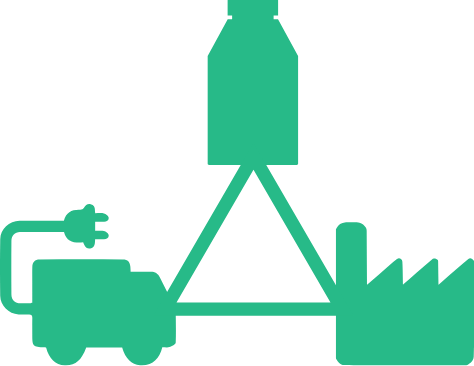 Our Packaging
When you hold a carton of NOBL WATR, you have chosen to step away from using fossil-based plastic bottles and can be safe in the knowledge that we have offered you the lowest impact packaging possible. We carefully researched the market and selected cartons that are:
Made from 95% plant based materials.
Made from 100% responsibly sourced materials.
Produced using 100% renewable energy
100% recyclable as a single unit.
Our Distribution Solutions
Nothing would be as sustainable as hand delivering each drink personally, obviously this is not viable. So we're investing in a fleet of the worlds first fully electric 16 ton lorries. #lovevoltatrucks
Our lorries aren't just electric, they utilise plant based materials with biodegradable flax bodywork.
Zero tailpipe emissions are better for the planet and better for our lungs
Our Production
Carefully sourced and lovingly packaged in the UK.
We don't want our drinks to be better travelled than us, so we do not supply further than 1000 miles away from our source.

NOBL Cause
Every transaction has a reaction on businesses, customers and society. We know it's important to for us to invest outside of NOBL as well as inside. That's why every NOBL WATR helps us do something wonderful.
Be-cause we all deserve it! Buy one get one tree
We invest in planting 1 tree for every 1 case (12 drinks) we sell.
110% carbon offsetting pledge
In an effort to leave thing better than we found them we have pledged to offset 110% of the unavoidable carbon emissions we create.

1% for the Planet
As a 1% for the Planet member we donate 1% of our annual turnover to causes that directly help the wellbeing of the planet.
5% of our profits go to charity
In addition to our other efforts we pledge a further 5% of our annual profits to UK charities. Details of this can be found in our annual impact report.
NOBL Culture
The NOBL team strives to create a fun, fair and safe environment as we believe in this where all people thrive.
This is why we have set the following standards:

Real Living Wage
As part of our journey towards a fairer society we have made the voluntary commitment to become members of The Real Living Wage. This means that the entry salary for the NOBL team is calculated according to the cost of living, rather than the government minimum wage.
NOBL team carbon footprint
It's hard to track our individual carbon footprints so at NOBL we offset the equivalent carbon footprint of an average UK individual for every member of our team. Based on some recent data the average UK person uses approx. 10.6 tonnes of carbon per year.
NOBL pay structure
Our team is unique and whilst we all have different roles in our NOBL mission. We compensate each team member fairly and want to reduce income disparity which is why we have introduced a structure that means that no member of our team will be paid more than 10 times that of any other.
NOBL profit sharing
We believe to win in the marketplace we must first win in the workplace. So as well as making sure each member of our team is paid fairly, we feel it was important to share 5% of profits equally throughout the team.